Crews rebuilding Island Home pillar destroyed by errant truck | News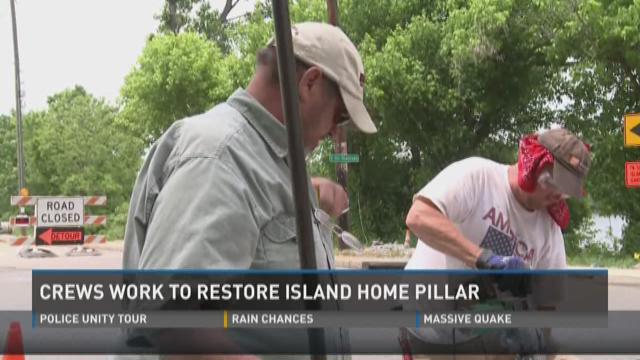 (SOUTH KNOXVILLE - WBIR) Crews on Tuesday worked to repair a 100-year-old pillar at Island Home Park. The column was destroyed after a truck driver crashed into it last week.
The truck driver apparently ignored detour signs routing him around Island Home Avenue, which is closed for construction. Once he got onto Maplewood Avenue, according to Knoxville Police, he couldn't get turned around and hit the pillar.
City traffic engineers have added additional signs to direct commercial vehicle drivers to safely use designated truck routes. They hope new signs will keep drivers off neighborhood streets. "No Truck" signs have been posted in the area for some time.
The city plans to install even more signs that better guide drivers making local deliveries to businesses on the section of Island Home Avenue that is closed.
As part of the South Waterfront Redevelopment Plan, the section of Island Home Avenue between Sevier Ave and Maplewood Drive is closed to through traffic while utility work is done as part of construction for the River's Edge Apartments development.
The eastbound detour route during construction follows Sevier Avenue to McClung Avenue. It turns left at South Haven Road and continues to Island Home Avenue.
Island Home Avenue will be closed west of the intersection with Maplewood Drive, but there will be access to Maplewood from Island Home Avenue.
The westbound detour will use the same streets in reverse.
The 134-unit apartment complex, river walk, and overall development to the Island Home Park neighborhood is all part of the city of Knoxville's overall 20-year vision for the South Knoxville waterfront.
RELATED: Apartment complex brings change to Island Home Park area
The truck that crashed into the pillar was making a delivery to Allied Toyotalift. The president of that company pledged last week to pay for repairs to the column.
The City of Knoxville announced CEP builders are working on the restoration; Owner Charles Edward Pruitt and his brother Tim are both South Knoxville natives who grew up near the South Knoxville landmark.
RELATED: Truck topples historic pillar outside Island Home neighborhood